Something to Ponder…April 2018
Instagram looks like Facebook's best hope
With lawmakers and users on the warpath, the photo-sharing app could be Mark Zuckerberg's way out of the latest data scandal.
Through the glass doors, beyond the giant camera logo and before the artisan coffee stand, visitors to Instagram's headquarters in Menlo Park, Calif., are invited to pause and commemorate the moment. Along one wall are three brightly painted dioramas: a night sky, a moonscape, and a pink sunrise with white plastic clouds in the foreground. The depictions, evoking the company's famous photo filters, are joined by arched doorways so guests can step between the three sets, taking a portrait in each.
That this display celebrates a now instantly recognizable form—the selfies shared within Instagram's smartphone app—is a testament to the company's success and cultural impact. But what's missing from this scene is any sign of Facebook.  Since 2012, when Facebook Inc. bought the 13-person company for $715 million, Facebook's way of doing business has been central to the rise of the photo-sharing network. In its earliest years as a Facebook property, Instagram operated out of the same building where founder Mark Zuckerberg worked. Today, Instagram's 700 employees work in offices that lack any visible evidence of its corporate parentage, even though they're just a five-minute bus ride from the mother ship. The company has its own mission statement—"To strengthen relationships through shared experiences"—its own branding, and a corporate culture that's as concerned with creativity and design as Facebook's is with engineering and data. But Facebook did impose its most important belief on Instagram: an obsession with growth.
1 Billion users worldwide
In Asia and Latin America, Instagram sign-ups have been booming. Later this year, Instagram will likely surpass 1 billion users worldwide. "So few networks get to that size," says co-founder Mike Krieger. "It means you're having a tremendous impact on the world." He says it's still surreal to see Instagram loaded on other people's phones on the train or at concerts. Last year he and co-founder Kevin Systrom enjoyed a moment of shared wonder when they realized that the billion-user milestone was within reach, a "pregratitude moment," Krieger calls it.
When Krieger and Systrom sold their company to Zuckerberg, the great promise of the deal was that whatever trail Facebook blazed, Instagram would follow. Instagram borrowed Facebook's business model—advertising—and it will contribute 18 percent of the parent company's overall revenue this year, according to a recent report from the research company EMarketer Inc. But following in the bigger network's footsteps has lost some of its appeal.
Facebook has more than 2 billion users but has been painfully slow to understand its own impact. The service's algorithm, designed to reward content that elicits emotion, made it a perfect tool for Russian propagandists to spread disinformation during the 2016 election. And Facebook's tendency to introduce products quickly, with little regard for their risks, caused the company to overlook obvious vulnerabilities. Zuckerberg was scheduled to testify on April 10 and 11 before congressional committees about his company's recent disclosure that it had allowed Cambridge Analytica, a market research company connected to the Trump campaign, to access personal data from as many as 87 million Americans. Facebook's stock price is down about 15 percent since mid-March.
Instagram relied on Facebook for its success, but now Facebook may depend on Instagram for its longevity. The app has hosted some unsavoury content, including from Russia, but its filtered sunsets and selfie photos make it look benign by comparison. "What if a healthier Facebook is just Instagram?" a New York Times columnist asked in January, suggesting the app's emphasis on sharing personal photographs, rather than viral news, as a possible blueprint for Facebook.
The growth of Instagram
There is some evidence for this point of view. Instagram's audience is younger than Facebook's—an advantage from a marketer's perspective. And unlike Facebook, which reported its first decline in users in North America in its most recent quarter, Instagram is still growing in its home market. "Without Instagram, Facebook is a completely different picture," says Jason Kint, chief executive officer of Digital Content Next, a publishing trade organization. Kint says Facebook might soon stop growing internationally, too, meaning that Instagram will be "incredibly important" to the company's prospects.
The idea that Instagram might bail out Facebook has likely been in the back of Zuckerberg's mind. He often says that Facebook should disrupt itself before someone else does, and he regularly celebrates Instagram at Facebook's weekly staff meetings, according to several employees. When executives are asked whether it's bad news that younger users seem disenchanted with the main social network, they respond that younger people love Instagram, and that's good for business overall. This is especially important because data gleaned from Instagram users can be used for targeting advertisements on Facebook, and vice versa.
Most Instagram users are unaware of all this. The service is widely seen as an escape from Facebook, so Instagram has to tread carefully to protect the app's reputation. Krieger, the company's chief technology officer, says he works to spread Instagram around the world while being careful not to repeat Facebook's mistakes. "We're not trying to relearn the same lessons," he says. Krieger saw the app's global potential from Instagram's earliest days, arguing for a design that used as few words as possible to minimize language barriers. The functionality was deliberately spare: Instagram users who opened the app were presented with a simple chronological feed and could like and comment on their friends' photos.
In an interview with Bloomberg Businessweek, Krieger—dressed as usual in a button-front shirt rolled to the elbows, with wire-frame glasses and hair combed back with gel—says Instagram is about truly knowing people, even if you've never met them. All of the company's product choices stem from that insight. In Instagram's early years, he says, he followed an account maintained by a stranger in Japan, because the guy had a great dog. (Krieger is married, but much of his own Instagram activity is devoted to another love, his 85-pound Bernese mountain dog, Juno.) When Instagram allowed users to post videos in 2013, the Japanese dog owner recorded one with his young daughter. Krieger was suddenly struck by a sense of a deeper connection. "I teared up," he recalls.
Avoiding sharing of posts adds to the appeal of Instagram
One of Krieger's early contributions to the app—a button to let users share other people's posts with followers—was never given to users. That turned out to be a crucial decision. Viral content had been essential to growth at Facebook and Twitter, but as Krieger and Systrom watched people use Instagram without it, they realized that sharing can also lead to a sense of alienation. "It would make people feel like the content in their feed was not what they had chosen," Krieger recalls.
A second important benefit of avoiding sharing revealed itself more slowly: It saved Instagram from the viral effects of sensationalist news and memes. The app became a place where people mostly presented what they'd created or experienced, rather than posting about the day's outrage. The app still makes it almost impossible to link to other websites, a feature that's central to Facebook. Zuckerberg has told Facebook's engineers to build whatever users might want; an early motto was "Move fast and break things." Systrom and Krieger's motto could easily have been "Don't ruin it."
This was part of the appeal to Zuckerberg, who's consistently sought to acquire or copy smaller social networks. While working on the deal to buy Instagram, which at the time of the acquisition had 30 million monthly users, Zuckerberg had his growth team meet with Systrom and Krieger to go through the company's latest performance data to make sure there were no glaring issues.
It turned out that Instagram didn't really do data. It was "really embarrassing," Systrom says. "We had a dashboard that had a live updating number of who signed up for Instagram per minute. That was growth for us." Once the acquisition closed, only a few months after Facebook's initial public offering in 2012, Zuckerberg installed members of the Facebook growth team at Instagram. They "instrumented the hell out of the app," according to a person familiar with the integration of the two companies. Instagram, employees were told, was "going to hit a wall" someday without Facebook's intervention.
Today at Instagram's headquarters, just a flight up from the lobby in an open space where engineers work, a large screen displays a set of graphs in a grid, charting everything Facebook taught Instagram to measure. This dashboard keeps track of performance in Instagram's newest markets in real time, with blue, green, and orange lines ticking upward as people post to Instagram or comment on friends' photos. Monitors alert engineers if anything is taking too long to load or if a country's cellphone networks are having issues. Listed on-screen is the name of the employee to call in case Instagram, for some technical reason, stops getting more popular.
To outsiders, Facebook left the app relatively unchanged. It was faster and better but remained a simple tool to post photos with artistic-looking filters. Instagram became "proof … that Zuckerberg can turn visions of growth and impact into reality without undue meddling," Michael Hoefflinger, a former Facebook executive, wrote in his 2017 book, Becoming Facebook. The "priceless value" of the Instagram acquisition, according to Hoefflinger, was that it persuaded smart people to work with Facebook, confident that they could maintain creative freedom.
Most Americans don't know the identity of Instagram's parent, which is just fine with Facebook.
In the U.S., Instagram has mostly avoided guilt by association with Facebook. And the parent company has worked to keep it that way. When Facebook's chief counsel, Colin Stretch, appeared before the U.S. Senate Select Committee on Intelligence on Nov. 1, his prepared testimony included a bombshell piece of data: that the 80,000 posts from Russian operatives trying to stir up political controversy on Facebook reached an estimated 126 million Americans.
It wasn't until a senator asked about Instagram specifically that Facebook revealed another number it had prepared. "The data on Instagram isn't as complete," Stretch hedged. But beginning in October 2016, he acknowledged, Instagram posts created by Russian propagandists reached 16 million extra people on the photo app. According to prepared congressional testimony released on April 9, Facebook now thinks the number was 20 million.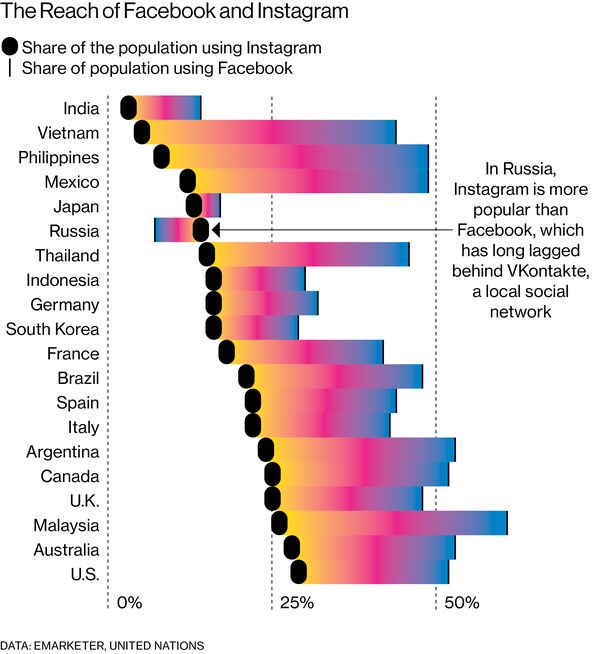 Standing out from Facebook
Facebook has boosted Instagram where convenient—in conversations with advertisers, for example—but otherwise hasn't done a lot of co-branding, keeping it separate in the minds of consumers and lawmakers. The majority of Americans don't know about Instagram's affiliation, according to a poll last year by Reticle Research and the Verge. On LinkedIn, when employees change jobs from Facebook to Instagram, they list Instagram as a separate company.
As the Cambridge Analytica scandal spiraled out of control, it touched Instagram only briefly, in tweets from Elon Musk, the SpaceX and Tesla Inc.CEO. Musk said he shut down his Facebook page and the pages of his companies, becoming the highest-profile businessperson to embrace a budding #DeleteFacebookmovement. Some of his followers asked, what about Instagram? Instagram was "borderline" but "probably okay," Musk tweeted, "as long as it stays fairly independent."
Since then, celebrities and brands have publicly cut ties with Facebook, including Playboy magazine, which pulled its main page from the site after Cooper Hefner, son of founder Hugh Hefner, said Facebook's "corporate policies continue contradicting our values." He made the announcement with a quote overlaid on a soft-focus portrait of himself. It was posted, of course, on Instagram.
That Facebook owns the first- and third-largest social networks—China'sWeChat, with a little more than a billion users, is in second place—is undoubtedly a huge advantage, even if it could eventually lead to antitrust scrutiny related to Facebook's dominance of the online advertising market. Google isn't building another search engine, and Amazon isn't building another e-commerce business, but Facebook owns a second social network that could one day be bigger than Facebook itself. Instagram has transformed from a small experiment, an "asterisk" in terms of Facebook revenue, to a "peer" in Zuckerberg's eyes, Systrom says. "Mark, the other day, said it used to just be that Facebook was the large, large majority of activity and revenue, and that's different now," he says. "This is a new normal."
Facebook's detractors warn that instead of serving up a sunnier alternative to Facebook, Instagram could inevitably wind up raising many of the same concerns about privacy and content currently plaguing the larger social network. Roger McNamee, an early Facebook investor who's now one of the company's loudest critics, says Facebook "used its dominant position in social media to grease the skids for Instagram" and has intentionally tweaked Instagram to make it more Facebook-like. Just as Facebook users weren't emotionally equipped to handle fake news, he warns, Instagram users are being exposed to unhealthy visions of what is normal, leading to body shaming and other feelings of inadequacy. "The dark side of social media did not happen by accident," McNamee says. "It's a side effect of conscious design choices made in support of maximizing the profits from advertising business models." Instagram has said that it's focused on the mental well-being of its users.
Krieger and Systrom ran into their first Facebook-related crisis in 2012, shortly after the acquisition. Instagram's original terms of service—the legal document in which social networks typically assert their rights and responsibilities with regard to users' data—had been "basically copied off the internet," Systrom says. So Facebook's lawyers insisted the founders draft a new one.
The Facebook lawyers helped Instagram write new terms. Buried in the agreement was a clause that implied that Instagram could sell users' photos. It captured the attention of internet hordes looking for proof that Facebook was ruining everything. Systrom and Krieger watched the dashboard as deletions spiked. Then they put out a tweet and a blog post announcing they'd removed the offending section and replaced it with the old one. Everything went back to normal.
The terms of service are still not entirely clear all these years later. Before Zuckerberg's scheduled congressional testimony on privacy, Facebook had been doing a companywide review of all its products, making sure, the company says, that it's using data only in ways that benefit users and can be understood by them. In a blog post at the end of March announcing changes to how Facebook explains its policies, a bullet point, with the header "One Company," addressed public confusion about Instagram. From a data perspective, it noted, Facebook and Instagram are the same.